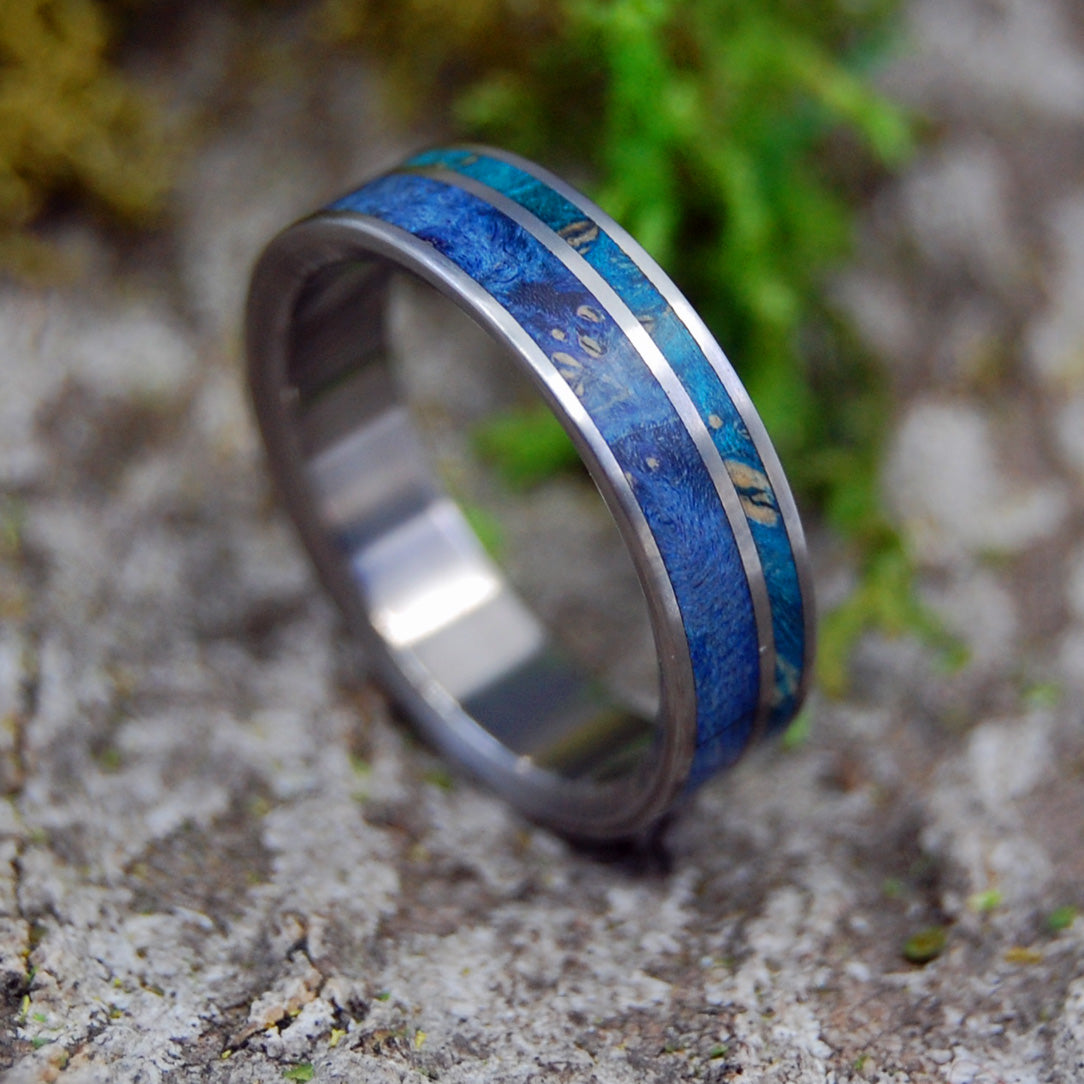 BLUE BOX ELDER BLISS | Blue Box Elder Wood Titanium Wedding Ring
Skies above, Earth below. Blue Box Elder is deliriously gorgeous. Gentle streams of blue gather around pale yellow sunbursts. A mirror finish adds shine.
Pictured at 6.4mm. 
Customer Reviews
Dear Minter, How can we thank you for everything you have done? These bands turned out absolutely beautiful in every way. We are so proud of them, and we want you and your husband to know that they will be cherished forever... We proudly share this photo on our Facebook page and with our family and friends, and we wanted to share it with you as well. Thank you, and we will never forget how helpful, and considerate, and thoughtful you were during our decision making process.
The rings are beautiful! Thank you so much for getting them out to us in time for our wedding! Also, thank you Minter for all of your help with the purchase :)
I ADORE IT! Tyson's engagement ring is absolutely beautiful, and I can't wait for the proposal now! The packaging made me laugh, it was like a mission to find the ring. Haha. I can't recommend you both enough! Also- it arrived in 6 DAYS from the US to Australia, wow!
Very pleasant to work with, and the rings are gorgeous! The price was reasonable too, although if we had known that we were paying an extra $40 to rent ring sizers we would have stuck with sizing for free at a jewelry shop. Otherwise no complaints, a wonderful seller with a marvelous product! Thank you so much!