CALIFORNIA KING | Wood & Titanium Wedding Band - Unique Wedding Rings
A Stunning Black Wedding Ring and the perfect Men's Wedding Band.  A Titanium Wedding or Commitment Ring to remember and a Wood Ring you will never forget. California Buckeye Overlay.
Pictured at 11mm
For added durability, we can encase the wood with titanium edges.  Click here to see that format and let us know in the notes section at check-out if you would prefer that for this ring - PROTECTIVE EXTERIOR TITANIUM EDGES
Customer Reviews
08/22/2021
David B.

United States
I recommend this product
CALIFORNIA BUCKEYE OVERLAY | Wood & Titanium Wedding Band - Unique Wedding Rings
Arrived in the time limit suggested by seller. Pattern and design looks exactly as presented on the web site, sizing is spot on. Ring is not as thick as it looks in the picture, that is my only complaint. I'm very cautious while wearing it because I'm worried that if I accidentally bump it against something it will bend, or crack the wood inlay. I wish the ring was more (and I assumed it would be) substantial.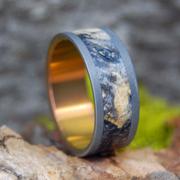 09/13/2021
Minter and Richter Designs
Hey there David! We are so glad you love your ring - and we loved making it for you. You requested the customization of added edges, which does make it so that we can make it just a bit thinner in the cross section as the titanium edges provide added durability. The wonderful thing about titanium is that it can be thin and comfortable and still be very substantial. It is also extremely light weight. But don't forget! We offer sizing exchanges for life for half price - so if you would like your ring thicker, simply let us know. We will always make you a new band at a new size, new thickness or even new width for half the price as an exchange with the original. Don't forget also that you were smart and got the Premium Level of Lifetime Care, so if you ever damage your ring (which of course is possible since any piece of jewelry can get damaged), you are covered for life for all damage as well as one time loss!! Shoot me an email at sales@minterandrichterdesigns.com if you need any help at all ever. Minter