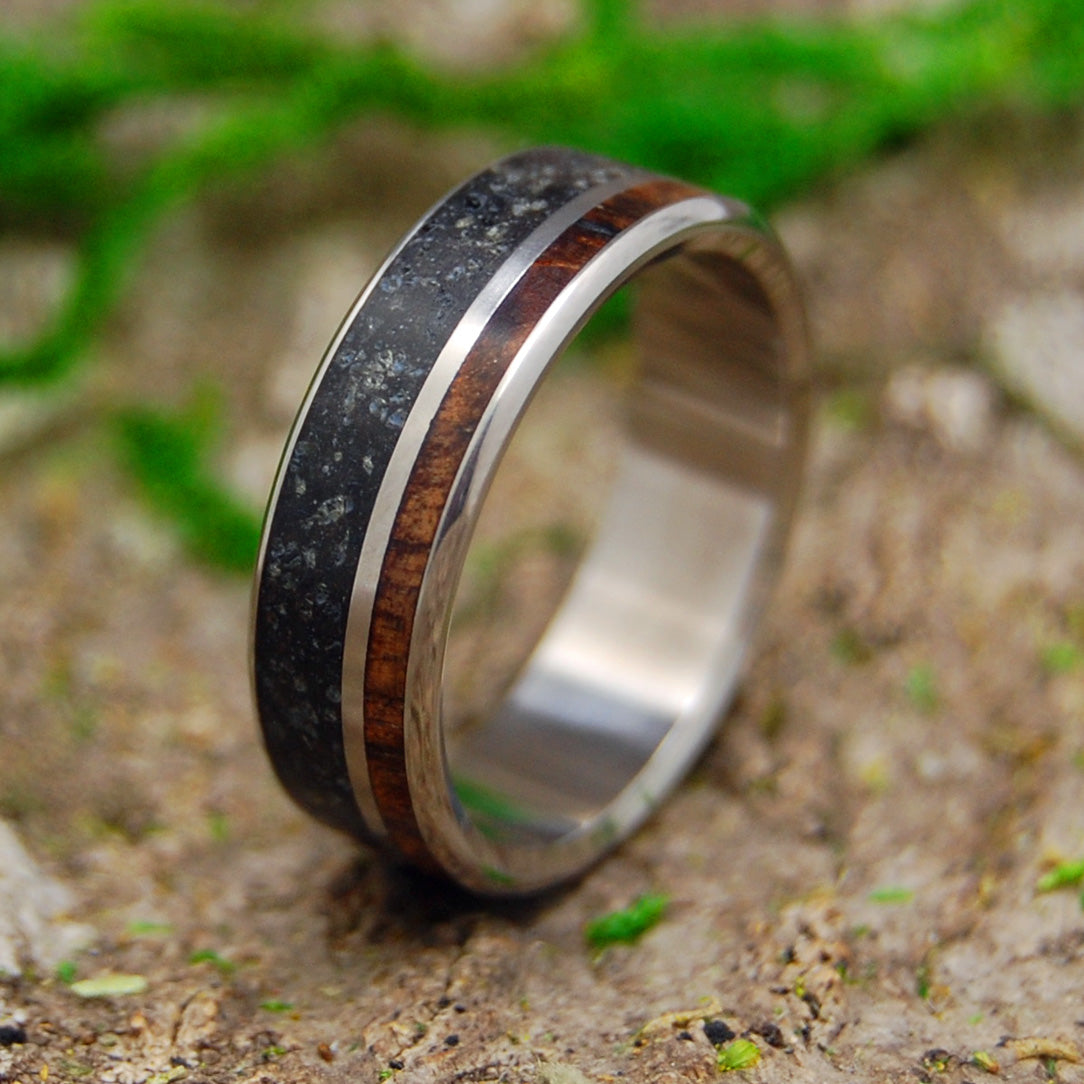 ICELANDIC HEART | Beach Sand & Koa Wood Titanium Wedding Ring
Mens wedding ring or womens wedding ring. 
We drove the Icelandic Ring Road and collected sands all the way around this beautiful country.  This ring has black sand from Vik Beach, to Western Iceland to Eastern Iceland.  For a softer tidal reach, we have accented it with lovely Koa Wood from Hawaii.  Just putting it on makes you feel super strong and badass, just like a viking!
Pictured at 7mm 
Exterior Finish - mirror
Interior Color - none
Edge Shape - Rounded
Customer Reviews
07/08/2021
John R.

United States
I recommend this product
What a ring!
Received the ring so quickly after it was shipped, and the customer service was so quick and helpful. I have not worn the ring yet, besides for a few moments but it looks and feels excellent!
09/05/2020
Ryan W.

United States
LOVED this ring/experience
I have to say that working with Minter and Richter has been a truly great experience. I got married in 2019 and wanted a men's wedding band that went beyond the basic gold old man ring. I booked an appointment and 'Minter' showed me around their hundreds of customizations to pick a truly one-of-a-kind wedding ring. I ended up purchasing the life-time replacement guarantee and to my dismay, had to get a replacement after I lost my ring at an airport. I immediately gave M&R a call and within 4 weeks had my new ring delivered at no cost. They were very helpful and kind in both processes and my wedding ring looks pretty badass (picture below). It even has sand from the state where my wife and I got married. I definitely recommend using this company. My advice when picking the ring (because it can be overwhelming with all the option): There are a lot examples on their website and Instagram... Pick a design you really like from the website or Insta and then they will help you make slight customizations from there to make it unique.
04/29/2020
codyrobinson27
Turned out beautifully, thank you!