MAD MAX | Red Jasper Stone & Egyptian Jade Copper Titanium Wedding Rings
Designed by Rich Wilkins of the Mad Max Mini-Series.   Red Jasper stone and Egyptian Jade strike it hot with gleaming rounded copper edges on either side.
Pictured at 9.5mm 
Exterior Finish - Mirror
Interior Color - Anodizing not available on this ring as there is stone on the interior
Edge Shape - Rounded
For added durability, we can encase the stone with titanium edges.  Click here to see that format and contact us if you would like that for this ring - PROTECTIVE TITANIUM EDGES
Customer Reviews
02/10/2021
Rich Wilkins aka @patriot.rich

United States
I recommend this product
My favorite Ring Company
The attention to detail and craftsmanship of these rings are pure art! I've had the privilege to not only handle 10 different designs, but wear them. Each one makes a statement. The compliments I get on my rings from Minter and Richter says it all. I recommend these bands to all of my friends and hope you enjoy them as much as I do. Honored to be working with Minter and Richter and to have the opportunity to see a design brought to life. I'm so proud to have such a beautiful ring to express and showcase the love and commitment I made the day I married my wife! Thank you Minter and Richter!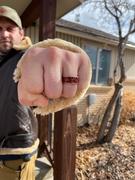 02/10/2021
Minter and Richter Designs
Thank you so much for this wonderful review and for coming to us! We were thrilled to get to work with you and will be keeping an eye on your fabulous Instagram @patriot.rich !!